Un-Leash the Monster...
Far-Fetched is an animated series, currently in development by Ashley Nichols & Dave Capdevielle about a girl forced to raise a cute, but chaotic canine creature.
Hideous creatures? Rock bands? Secret organizations? An EDM vampire? Monster hunters? A purple sparkle dog? The crippling struggles of adulthood? These are just a few of the things you'll find in Far-Fetched, a horror comedy animated series about one young woman's struggle to get by in a world riddled with the macabre. In the town of Veilport, Rue Cervello sets out to start life on her own, only to accidentally unleash a cryptic puppy from her own mind. Now stuck with the canine creature named Kira, Rue joins her best friend Quinn & his rock band of late 2000's misfits to fight & exist in a world where science is at odds with the supernatural. Comedy, horror, action, music & a sprinkle of nostalgia, Far-Fetched is a thrill-ride of fun from the doghouse to the grave.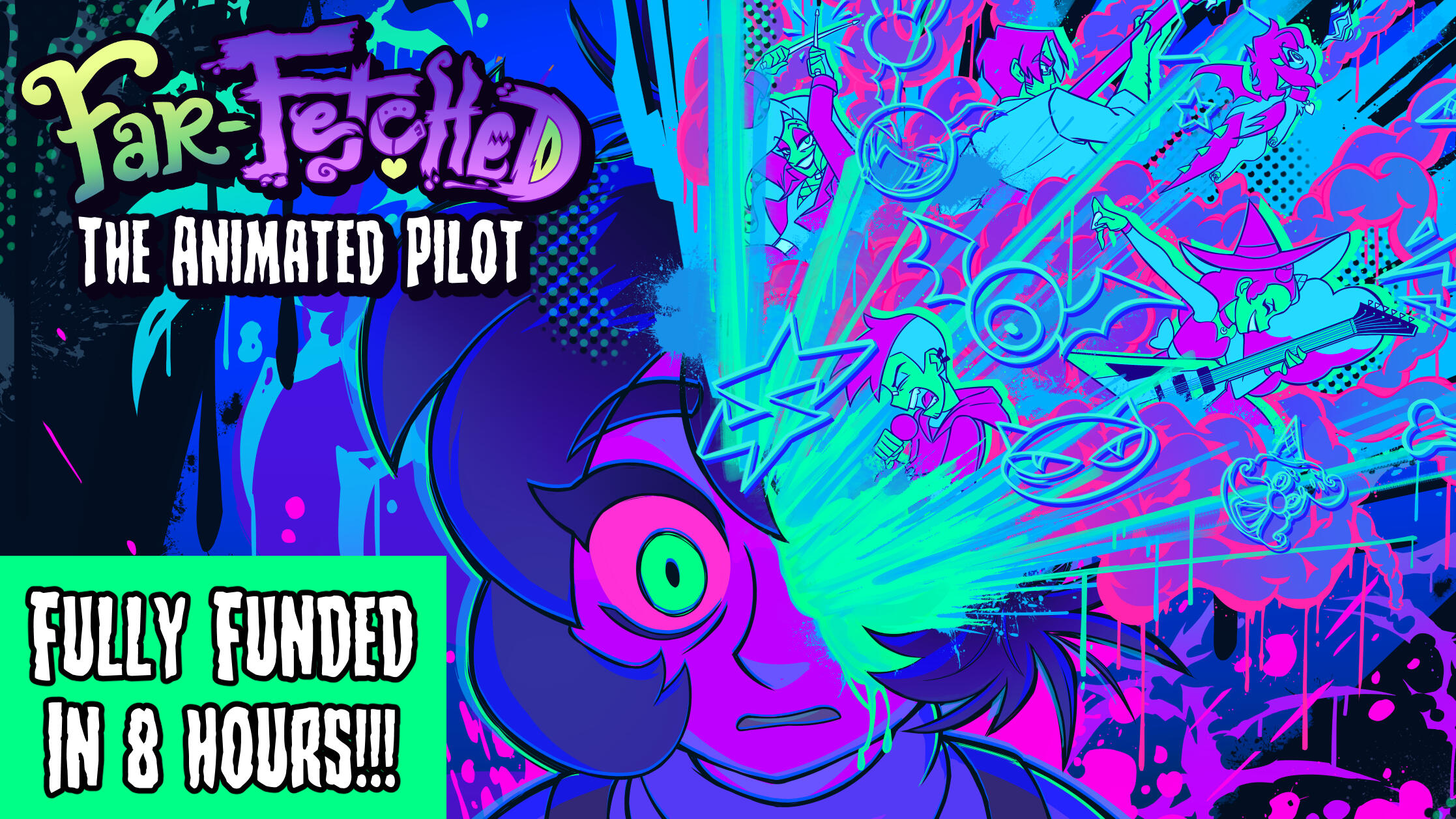 Sounds decent enough. So how are you going to make this, smart guy?
Good question, person writing this. In case you haven't heard, creating independent animation isn't cheap. Sure, you can get backing from a major studio, but they might tell you "No Ashley, you can't have 17 werewolf characters.", and these conditions are just barbaric. So, we plan on funding Far-Fetched completely on our own! These days, internet-produced animation has become far more common, and it's very clear that the medium can easily thrive outside of the studio system.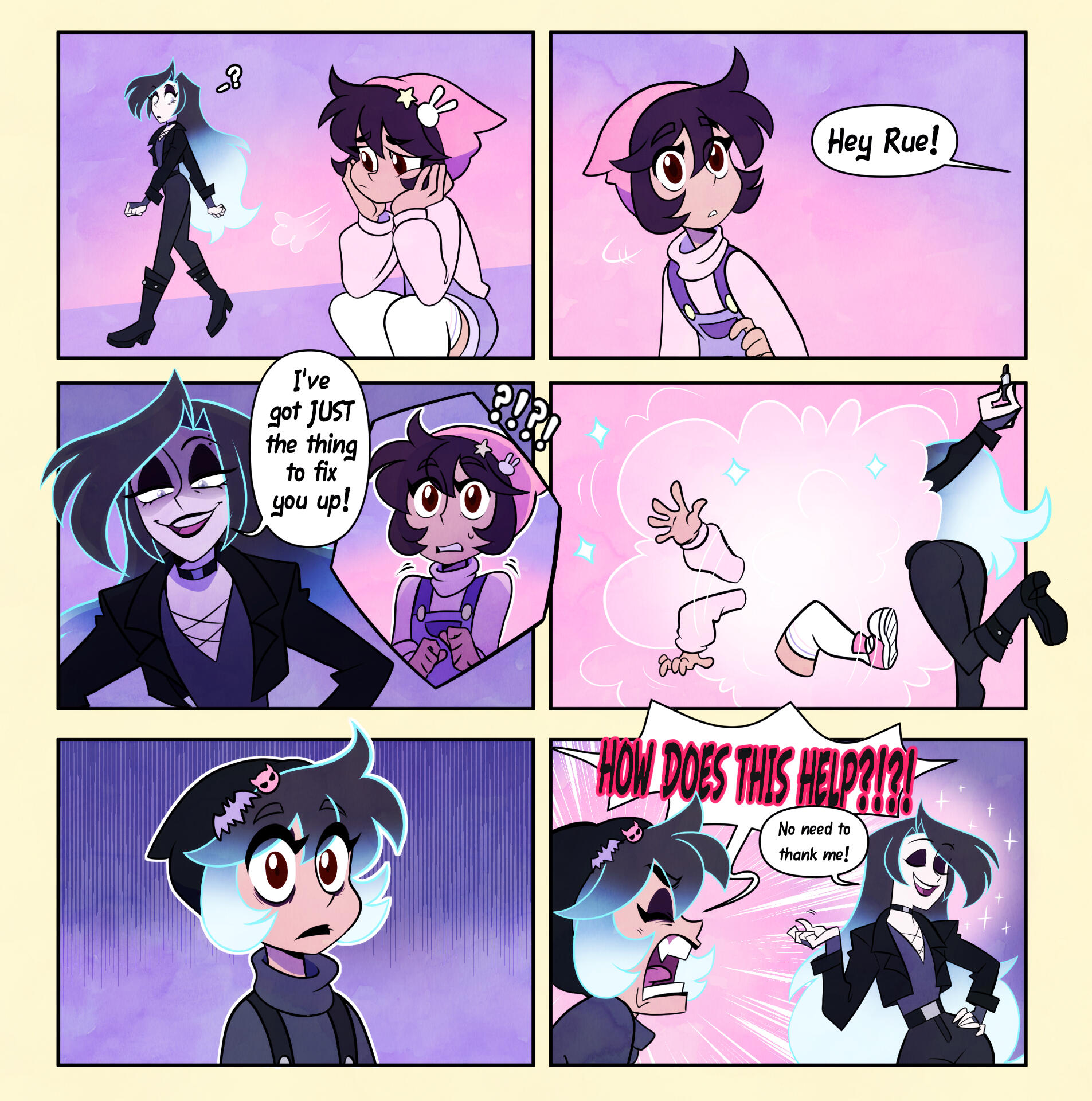 We've already successfully produced a 2-minute proof of concept short animation and plan on funding the full pilot episode on our own, with additional support from fans, so that we may create a show that isn't limited by the expectations of some business suit named Frank. If we don't screw this up and people actually like it, then we plan on funding an entire series, in order to fully bring to life the story we want to tell. Sure, this is a little uncertain and risky, but it's a lot better than working with Frank. Screw you, Frank.
About The Creators
Ashley Nichols
Ashley is an animator & artist, best known for her work as animation cleanup lead on the Hazbin Hotel pilot & Lackadaisy film, as well as her popular podcast HuniCast. When she isn't working, she wastes the hours of her life away playing dinosaur video games.
Dave Capdevielle
A skeleton roaming the Earth in a flesh suit, Dave is a writer, musician & overall entertainer, best known for his work on the Hazbin Hotel pilot, various productions & podcasts. He knows far too much about 1980's horror movies & ALF.
Rue
Always trying to act fine no matter how not fine things are, Rue has set out for the first time to take on the adult world on her own. With a love of pastels & corny horror movies, she finds her creative hands quite full when a mysterious canine enters her life & turns that adult world upside down. As she nervously joins her newfound friends to play keyboard for Sesamoid, she struggles to maintain control of both her unstable emotions & the adorable beast she's released.
Kira
She's a dog. Just a normal dog. There is nothing remotely weird about this dog. Don't ask why she has hair… and wings… and is purple. Okay, so maybe she's not even a little bit normal, but she's completely harmless! Well, "completely" is a strong word...
Quinn
He doesn't think he's better than you; he knows he is. As the leader & drummer of Sesamoid, Quinn's tunnel-visioned determination for his band to make it big often puts his friends into perilous situations they never asked for. Armed with snide remarks & a killer stick twirl, the only thing scarier than viscous monsters to this gothic pretty boy is physical labor.
Piper
Refusing to ever take a bow in her life, Piper is the theatrical, guitar-shredding glue that holds Sesamoid together. With her gung-ho attitude & costume capabilities, she's always ready to support her friends with a much-needed brew of reassurance & jests. Once she grabs her six-string & witch hat, she's sure to conjure up good times & blown-out eardrums.
Griff
An unpredictable airhead with a heart of gold, you'll probably find the lead singer of Sesamoid inside of your local trash can. Armed with a powerful voice & cursed with an accident prone existence, Griff is a friend to creatures both big & small. It's probably best not to ask him anything specific, because you'll be left with more questions than answers.
Warren
Like your dad after an 8-hour car ride, Warren has had just about enough. As the bassist of Sesamoid, this intellectual behemoth is the sole member of the band with a realistic mindset. While he has his friend's best interests at heart, he isn't afraid to let them know how often they're horribly misguided. Just don't bother him while he's fixing the ice cream truck.
Support The Show
Thank you for your interest in supporting our crazy little idea. You can currently buy a small selection of merch via Huni Bunny Shop. Stay tuned for more ways to support the series through our twitter or instagram!